Oral Cancer is the Silent Killer!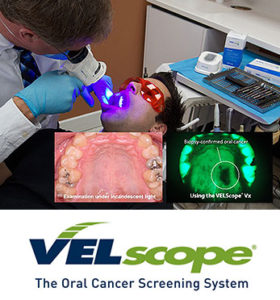 Our office is not just committed to your smile; we are devoted to your general health. We take an all-encompassing way to deal with your dental care, which involves an oral cancer screening as a piece of your standard exam. In the same way as other kinds of disease, oral cancer can be life-endangering if not analyzed and treated early.
We have a new piece of technology called the VELscope.  This new equipment is able to detect the early signs and side effects of oral cancer and precancerous conditions that cannot be seen by the naked eye.  While these manifestations might be brought about by other, less significant problems, it is vital to visit our office to help abolish the likelihood of oral cancer.
The most widely recognized indications of oral cancer include:
Red or white spots or wounds anyplace in the oral cavity
A sore that drains effortlessly or does not heal
A lump, thickening, or harsh spot
Pain, tenderness, or deadness anyplace in the mouth or on the lips
Difficulty biting, gulping, talking, or moving the jaw or tongue
Our expert team is prepared in a basic, speedy screening that includes an examination of your oral cavity all in all, and not only your teeth, to capture cancerous and precancerous conditions. Other than a visual examination of your mouth, we will likewise feel the tissue of your mouth and throat to identify any abnormalities. if we discover a region of concern, we might perform a basic test, for example, a brush test, which gathers cells from a suspicious sore in the mouth to be sent to a research facility for examination. In the event that this test returns atypical or positive, we might prescribe a biopsy.
Besides getting an oral cancer screening amid your dental evaluation at our office, there are many other things you can do to avoid oral cancer:
The most ideal approach to avert oral cancer is to keep away from all tobacco items and just drink liquor moderately.
Maintain a healthy,balanced eating routine.
Limit your exposure to the sun and dependably wear UV-A/B-blocking, sun-defensive creams on your skin and in addition your lips.
During your next dental appointment, request that your dental specialist perform an oral exam. Early identification of oral cancer can enhance the possibility of successful treatment.