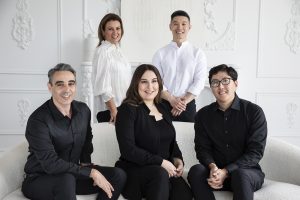 Etobicoke Dentist  – Dr. J. Stefani
Dr. Jonas Stefani is an Etobicoke area dentist who has trained with some of the most prominent  dental specialists worldwide. Over the past 8 years he has been dedicated to providing  cosmetic and general dentistry, while ensuring to maximize  his patients' overall health and well being.
Philosophy
"Your Overall Well Being begins with your mouth"
The top priority is to listen to and understand all his patients' needs and concerns. Dr. Stefani's gentle mannerism and contagious laugh is conveyed in his practice. It is evident when you step into the office that we care about providing you with comfort and relaxation for each and every appointment.
Dr. Stefani's philosophy and commitment is to provide his patients excellence in dentistry with the highest level of customer service. He insists that all his patients receive individualized treatment, maximum comfort and quality results because he knows that your smile is the first thing people will notice. Dr. Stefani will create the smile of your dreams, the smile you want!
Dr. Stefani and his team are committed to building long-lasting professional relationships and wants to ensure that you feel as you are a part of our "dental family". The dedicated, outstanding, friendly, professional team behind Dr. Stefani will always make you feel cared for, relaxed and comfortable with every visit. "As a team we all aim to change people's lives one smile at a time."
Background
Dr. Jonas Stefani completed his Doctor of Dental Surgery degree from the distinguished Juiz de Fora Federal University, Dental Faculty of Brazil in 2008. He came to Canada to practice his lifelong passion, "dentistry". Here he attended Ryerson University and later became certified by The Royal College of Dental Surgeons of Toronto after achieving high success in all dental qualifying examinations in Dalhouse Dental School in Halifax.
Belief's
"I believe in always improving myself and the services I offer as a dentist. Therefore I am always taking continuing education courses to update my knowledge  and skills. I believe that we learn something new every day and we  always grow as professionals and as people."
Dr. Stefani is a huge believer in giving back to the world and often does volunteer  work in Canada and abroad.
Affiliations
Dr Stefani is an affiliate of the Royal College of Dental Surgeons of Ontario, the Academy of General Dentistry, The American Academy of Cosmetic Dentistry, The Ontario Dental Association, America's Pediatric Dentists Association and the American Academy of Implant Dentistry.
We started as four dedicated individuals who share the common ideal of being genuinely concerned with your overall health and self-esteem. We will provide you with a BEAUTIFUL SMILE using the BEST MATERIALS, the very LATEST CUTTING EDGE TECHNOLOGY, and the most advanced skills and services. You will have a truly caring, remarkable, relaxing experience while we focus on you and your comfort. Our vision is to MAKE A DIFFERENCE IN OUR COMMUNITY.