Implant Retained Dentures. Dentures that stay in your mouth!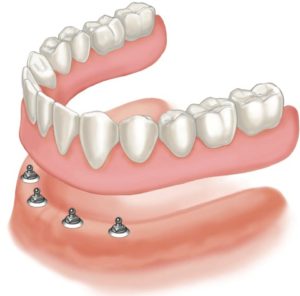 Technology has come a long way for all our denture wearing patients. If you are tired of using messy pastes and glues to keep your dentures in place or if you know of a loved one that is struggling with ill fitting dentures, digestion issues due to their dentures or loss of quality of life and self esteem, this article is for you.
The advances that have been made in dentistry with implants, enable patients to have full dentures that are retained by implants. What does that mean? With a few strategically placed dental implants we can secure your denture in place and give you the ability to enjoy your meals, to give you back your self esteem and quality of life.
Implants are straight forward procedures that are now done routinely in most dental offices. They have literally changed the lives of people that prior to implants struggled to eat. Implants in patients with no teeth improve stability, retention, quality of life, improvement of digestion issues, and in general improve quality of life. Call our office and schedule a "Complementary Consultation" so we can discuss how implants can change your life.
Implants have now made it easy to keep dentures where they belong! In Your mouth.